EMCUS Attended U.S.-China EcoPartnerships 2019 Annual Meeting
EcoPartnerships 2019 Annual Meeting took place in Beijing on October 30, 2019. In its morning session, Daniel Wald, the officer of the economic division of the American embassy in China, delivered a welcome speech, highly recognizing Ecopartners' success in creating social and economic benefits in the field of environmental protection. Carolyn Szum made an opening speech on behalf of the EcoPartnerships Secretariat. She expressed her hearty welcome to the nine pairs of Ecopartners present that day and drew out a picture for the post-10-year development of the program. The event celebrated the past decade of China-U.S. green cooperation and encouraged Ecopartners to keep working hand in hand in the future.
About EcoPartnerships:
In June, 2008, at the fourth meeting of the Strategic and Economic Dialogue, China and the U.S. signed a Ten Year Energy and Environment Cooperation Framework (TYF), which called for Action Plans on seven priority areas. The U.S. Department of State and China's National Development and Reform Commission established the EcoPartnerships program under the Framework. The Framework noted that the aim of the program was to spur development of new models of mutually beneficial voluntary arrangements between like-minded organizations at the sub-national level, and to promote energy security, economic growth, and environmental sustainability in both countries. By now the program has paired up more than 40 Ecopartners. They have carried out in-depth cooperation in clean energy, environmental management, wetland protection, low-carbon development and other fields and have achieved desirable effects.
Jiangsu China-U.S. Environmental Monitoring Co., Ltd. (EMCUS) and Ramboll-Environ was paired up in 2017. We have cooperated extensively in air quality monitoring in China's chemical industrial parks and realized favorable results.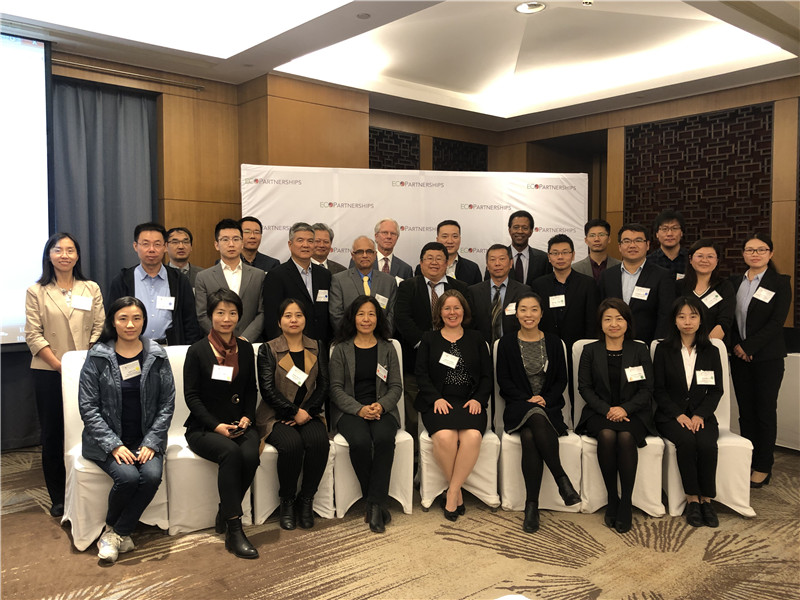 Pic 1:Group photo of the EcoPartnerships 2019 Annual Meeting
EcoPartnerships——Graduation:
2019 marks the third year of the EcoPartnership between EMCUS and Ramboll-Environ. During the period, our technical cooperation is fruitful with Dafeng Demonstration Project as the most representative one. Currently, Dafeng Project has been completed, which displays the maturity of our EcoPartnership and suggests that it should be graduated this year.
At the meeting, EMCUS President Mr. Zhang Weimin and Ramboll-Environ Principal Mr. Chan Litmian shared their success story and received high recognition. They were awarded the EcoPartnerships graduation certificate from Carolyn Szum, director of the EcoPartnerships Secretariat. Mr. Zhang Weimin thanked the Secretariat and showed his commitment to devote himself to environmental protection as the cause reciprocates him with youth and vigor.
Pic

2

:

EcoPartnerships graduation certificate granting

Pic 3:Mr. Zhang was speaking
EcoPartnerships——Prospects:
Looking into the future, EcoPartnerships will further promote the sub-national cooperation between the two nations in the seven priority areas of environmental protection. Besides, the Secretariat proposed to issue EcoPartnerships Special Volume, leveraging it as a platform for Ecopartners to showcase achievements, for Chinese and U.S. technology communities to carry forward academic communication, so that the two countries can embrace new cooperation opportunities and development prospects.

Our EcoPartnership has been graduated while our friendship will never fade. EMCUS and Ramboll-Environ will cooperate in new ways and further contribute in the China-U.S. technology and software cooperation in chemical industrial parks infrared air monitoring and source attribution.






Pic 4: Mr. Zhang Weimin and Mr. Chan Litmian