Founded in March 2016, Jiangsu China-U.S. Environmental Monitoring Co., Ltd. (hereinafter referred to as EMCUS) focuses on monitoring chemical pollutants in air, water and soil, offering technical and maintenance services, undertaking environmental management projects, developing and selling environmental monitoring softwares and equipments, engaging in importing and exporting business of the products and technologies above, and offering integrated services on IT systems. EMCUS respects the spirit of "Steadfast, Hard work, Responsibility and Dedication", and creates a good enterprise environment with faith, win-win and pioneering business philosophy and a brand new management model, perfect technology, thoughtful service and excellent quality for survival. EMCUS always adheres to the customer first and serves the customers with heart, and insists on using our own service to move the customers.
Following advanced air quality monitoring technology and equipment of the U.S. for 5 years, combined with the pollution status of China's chemical industrial parks, EMCUS developed the "Stepwise Vertical Radial Air Quality Monitoring Technology" and signed an exclusive authorization agreement of FTIR equipment with US KASSAY Company, and started to carry out the air quality monitoring services in China's chemical industrial parks and port areas. The monitoring system can effectively monitor the exhaust gas emission and leakage of chemical plant and dangerous chemicals storage. It has the function of active scanning, high monitoring precision, wide monitoring range, many kinds of monitored pollutants, 24 hour real-time monitoring and so on.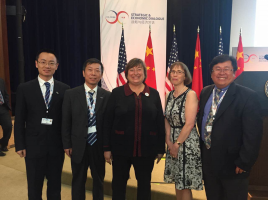 Pic: US Deputy Secretary of State Catherine Noveli
and EMCUS president Mr Zhang Weimin
On June 23, 2015, EMCUS participated in 7th China-US Strategic and Economic Dialogue, and had a talk with US Deputy Secretary of State Catherine Noveli . Both China and US leaders gave full support to the cooperation between two countries on air quality monitoring.
On the 7th China-US Transportation Dialogue at Shangri-La Hotel, Suzhou on November 6, 2015, EMCUS president Zhang Weimin made a presentation themed about safety production in port areas and detection of toxic chemicals. He raised a monitoring method of One tower, Two lines, Three dimensions, which was well-received and recognized by the delegates.
On the 8th China-US Strategy Dialogue on June 6, 2016, EMCUS president Zhang Weimin made an excellent speech about deep cooperation in air quality monitoring between China and US, receiving high recognition by both China and US leaders. US Secretary John Kerry once stopped to watch EMCUS's product exhibition board and carefully asked in detail EMCUS's current monitoring businesses.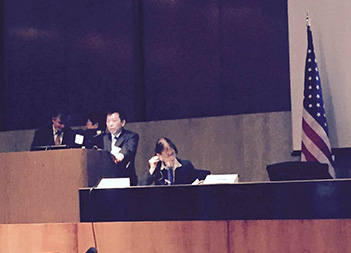 Pic: Weimin Zhang making a speech at China-US EcoPartnership Program Seminar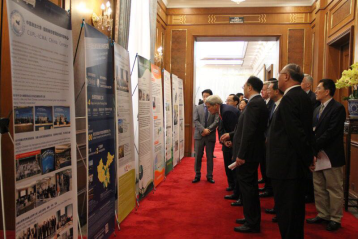 Pic: US Secretary of State John Kerry is watching
EMCUS's product exhibition board carefully
EMCUS has a professional design and service team, with advanced air monitoring products, excellent technology, customer-oriented service awareness, and has gained wide attention and praise in this industry. At present, EMCUS has signed monitoring contracts with Dafeng District Huafeng Industrial Park in Yancheng City Jiangsu Province, Jiaxing Port District chemical Industrial Park in Zhejiang Province, has completed the air quality monitoring system designing and construction task book with Suzhou Xuguan Chemical Industrial Park and Zhejiang Haiyan Chemical Industrial Park, and will establish a national demonstrative project in Huafeng Industrial Park.